Ayala Bar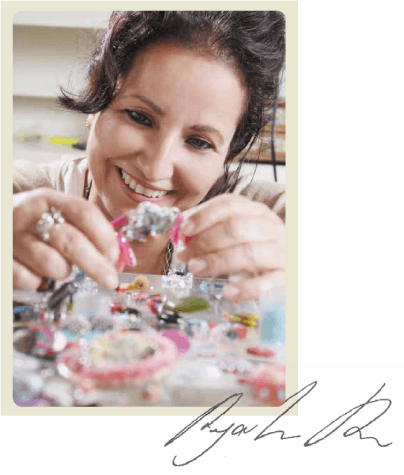 I have always been drawn to jewelry as a form of expression and, given that I have stayed involved in several fields of creativity at once, the area of collage came naturally to me. "Matchmaking" materials is what I love to do: testing contrasts, colors and textures and how they interact together.
Combining beads and soft tassels with jagged surfaces; matte textures with shiny metals. For me, the possibilities are boundless and anything can trigger creative impulse.
Back in the 1980s when I first started, most jewelry tended to be made of precious metals such as gold and silver as well as modeling clays, which was popular at the time. Being an outsider, I actually had an advantage. My designs were different. Unexpected. They incorporated materials that were unconventional: metals with fabrics, beads, plaster, wood and different findings.
Through time, my design aesthetics have increasingly reflected influences in the fashion world and seasonal color changes.
My main source of inspiration has always been the materials themselves rather than ideas that come from within.
Other influences that have captivated me include my cultural background. My grandmother, who is still alive at the age 104, emigrated from Afghanistan to Israel in the 1920s. She carried her baby for most of the 2000 mile journey. This baby was my father. At one point, I visited a museum featuring jewels from Afghanistan. As I walked through the gallery, I was amazed. I noticed the parallels between the artifacts on display and my own work.
At the beginning, my jewelry was like miniature mosaics made of beads, crushed glass, mineral stones, decorative prints, wood and ceramics. I combined these materials to create collages. On one occasion, I incorporated autumn leaves that I had picked up on the way to my studio. Things that come into my life unplanned or by chance, may later take shape in the form jewelry. I introduce random elements that I come across, and it has become the way that I express myself creatively.
It is my hope to continue to evoke curiosity and intrigue through my artistic productivity . For me, this is the true essence of what Ayala Bar stands for.
No products were found matching your selection.